About the Costa Blanca
Th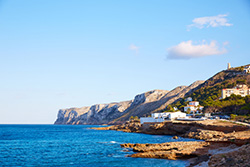 e name 'Costa Blanca' is derived from the white sandy beaches which run along the 200 kilometres of Mediterranean coastline in the Alicante province, on the south eastern coast of Spain and include some 170 beaches and coves. The Costa Blanca extends from the town of Dénia in the north, beyond which lies the Costa del Azahar, to Pilar de la Horadada in the south, beyond which lies the Costa Cálida.
We focus on the northern end of the Costa Blanca North. Also known as the Marina Alta, the area includes coastal towns and villages inland in this greener and lusher part of the Costa Blanca. The natural beauty of the area is stunning! Gently sloping sandy beaches and rocky coves overlooking the sparkling, aquamarine Mediterranean Sea leading inland to orange and lemon groves. Further inland, reveals a countryside full of almond, olive and cherry trees, where the small villages still conserve their agricultural traditions by working on the ancient terraces below rugged mountain ranges. In early Spring, the almond blossom on millions of trees transforms the view to a sea of shades of pink attracting walkers who are entranced by the stunning views!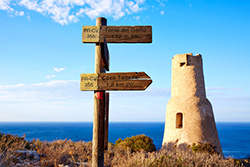 The Costa Blanca has had a rich and varied history. Many of the coastal towns have been populated by the ancient civilisations, from Greeks and Phoenicians to Romans and Moors, who have introduced many of the vines, trees, fruits and vegetables we still see today. Much of this cultural diversity remains in the form of the architecture and the subtle cultural influences of its residents, particularly the Moorish legacy with many castle ruins and the terraces still in use today.
There are many reasons for the popularity of this region, not only the 300 days of annual sunshine and an average annual temperature of 19 degrees C! Indeed, in the 2019 edition of the Bloomberg Healthiest Country Index, which ranks 169 economies according to factors that contribute to overall health, Spain now holds the top spot having risen from sixth place and has taken over this accolade from Italy!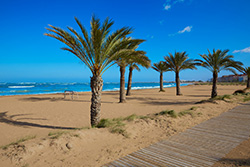 The needs of daily life have not been forgotten. The region boasts good transport links, well established health and education systems, with international hospitals and schools adapted to the needs of foreign residents. Numerous restaurants are available to tempt your taste buds with a variety of dishes that form part of the much vaunted Mediterranean cuisine. Water sports, mountain sports, golf, tennis, whatever your sport, the Costa Blanca also caters for all!
Whether on the coast or in the immediate hinterland, and whether a sportsperson or hobby gardener, whether working or retired, there are many reasons to choose the Costa Blanca for your new home! We may be biased, but the Costa Blanca is truly a great place to live!
Denia Activ…………QUALITY PROPERTIES…………QUALITY SERVICE
Email: info@deniaactiv.com Tel: +34 600 482 482 (09-14h / 16-19h)